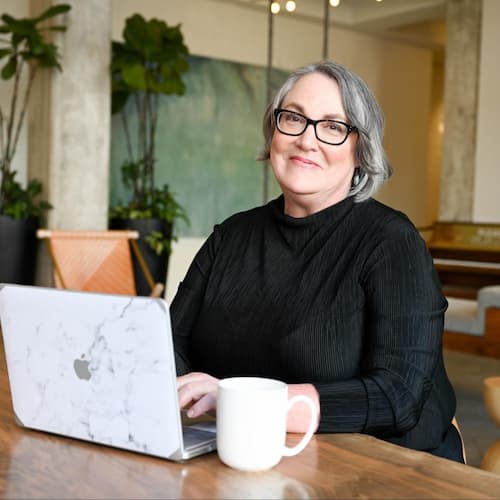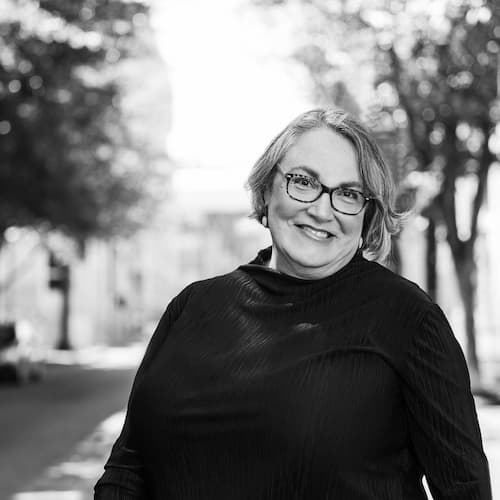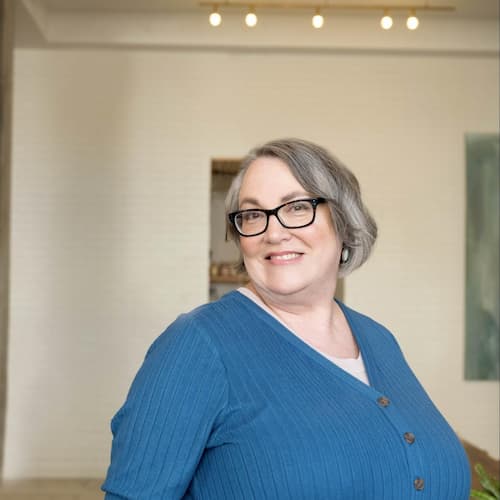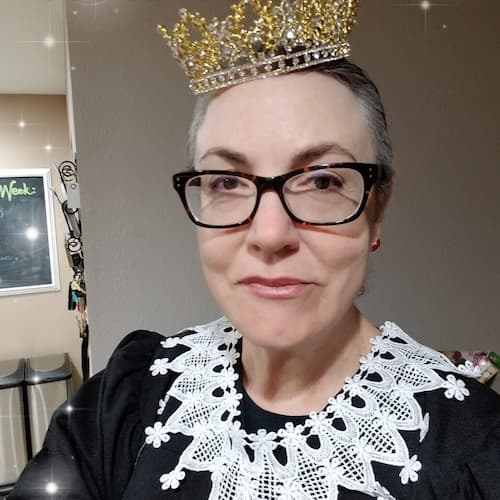 Some of My Favorite Things
Avenue of the Giants (CA Redwoods); any off the beaten path in Oregon; my bedroom (specifically, my fabulous bed)
History, self-help, ALL THE BOOKS, actually
It's a Wonderful Life; Phenomenon; Contact
Anything at a nice restaurant (I'm not picky)
Jalapeno margarita on the rocks
Gardening/plants; side hustles; hanging out with friends and telling stories
Justice, Truth, Community
Seeing my (now adult) son happy and healthy with a future he's excited about.
I am because we are. – Ubuntu philosophy
WHAT I LOVE ABOUT MY WORK AND CONTRIBUTION TO THE WB TEAM
I love the act of co-creating beautiful things with this team; it feels like I'm a kid again when we're brainstorming

I love the gift of co-creating beautiful things for people who want to change the world

I love seeing a client filled with joy at what we create for them.
WHAT BEING A PART OF THE WHOLEHEARTED BUSINESS TEAM MEANS TO ME
I get to participate in making the world more beautiful and positive.

I get to contribute my gifts and creativity in a way that only I can.

I get to help put more LOVE into the world.
PERSONALITY ASSESSMENT TOOLS & RESULTS
Clifton Strengths Assessment Tool (Formerly StrengthsFinder 2.0)
This assessment measures your innate talents — your natural patterns of thinking, feeling, and behaving. The StrengthsFinders tool was developed to help people discover their unique abilities and uncover information about themselves, and to guide them towards doing what they do best.
Téa's Innate Talents: Strategic ■ Connectedness ■ Relator ■ Intellection ■ Input
The Enneagram Personality Typing
The Enneagram is a system of personality typing that describes patterns in how people interpret the world and manage their emotions. The Enneagram describes nine personality types and maps each of these types on a nine-pointed diagram which helps to illustrate how the types tend to relate to one another.
Téa's Personality Type: 7-Enthusiast ■ 9-Peacemaker
Human Design Chart
The Human Design System is a logical system that brings together principles from ancient wisdom and modern science and provides a practical tool for self-discovery and soul-aligned decision-making.
Your Human Design Chart reveals your genetic design and a blueprint of who you are to help you recognize, understand, and embrace your innate gifts.
Téa's Type: Manifesting Generator